Dr. Chandresh Sharma
MS, FARS (Germany)
Orthopedic and Joint Replacement Surgeon
After completing his MBBS, he selected Orthopedics as his branch for specialization. As per his merit he was selected for the only seat in Orthopedics In his category at PDU Hospital, Rajkot. During his training in Orthopedics at PDU Hospital, he was trained for trauma and fracture cases under senior professor Dr. KM Sayani. Apart trauma he developed special interest in Joint Replacement and Reconstructive Surgery was exclusively trained under Prof Dr. Bhavesh Sachde, a very renown name in the branch of Joint Replacement in entire Saurashtra. After his MS, he went to St. Josephs Hospital, Germany where he got advanced training for Primary and Revision, Knee and Hip replacement Surgeries under Prof N. Linder and Prof H. Salem. He also spent time with Dr. SKS Marya, at Max Hospital, Delhi for the same.
After his training in India and abroad, he joined th team of Shree Orthocare Associates and worked for one year at CIMS Hospital Ahmedabad where he did a lot of Joint Replacement and Complex trauma Surgeries.
In June 2013, He along with Dr. Maulik Shah(Gynaecologist), Dr. Akash Joshi (Physician) and Mr. Sulay Shah, started a 20 bedded set at Chandlodiya, Ahmedabad called LIFELINE MULTISPECIALITY HOSPITAL. Since then he has been working as the Head of the Department of Orthopedics and Joint Replacement, and Co-Director of the Hospital.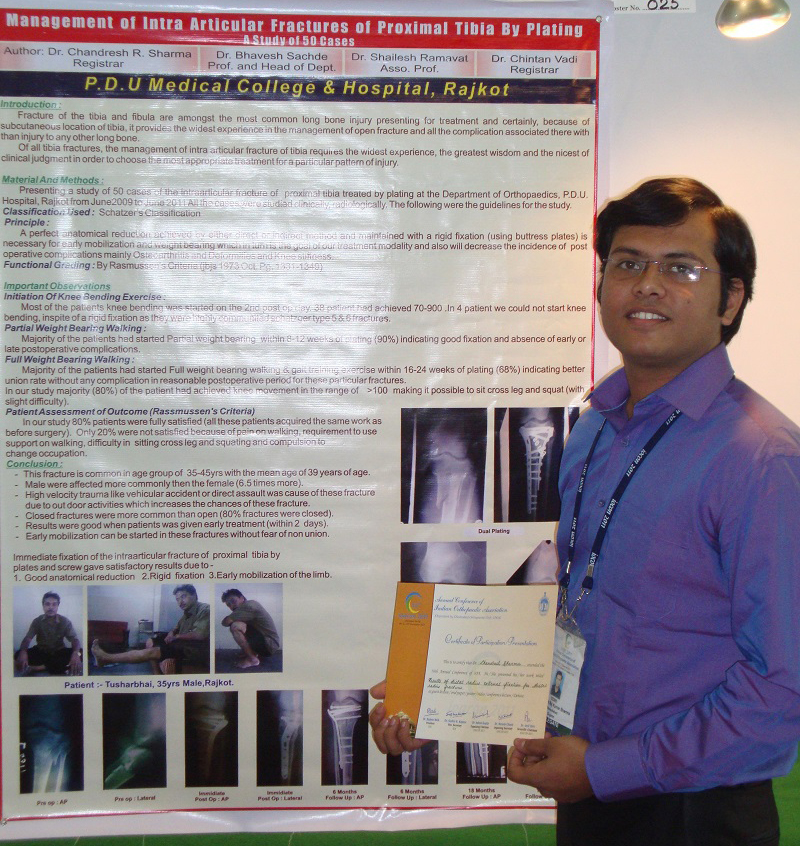 He is also attached with almost all the corporate hospitals of ahmedabad like Sterling, CIMS, SAL, HCG, SGVP and Rajasthan Hospital and has operated multiple patients at all these hospital. He also visits Chandrabhushan Orthpedic Hospital, Jodhpur everymonth since last 4 years and has a huge patient base of Jodhpur and other cities of Rajasthan.
At Lifeline Hospital, he has operated 1500 patients with orthopedic problems which include complex fracture cases, spine surgeries, arthroscopic surgeries and Joint Replacement Surgeries.
He is an eminent figure among the orthopods of Ahmedabad member of Executive Committe Ahmedabad Orthopedic Society (AOS) where they together look after educational programmes, workshops for orthopedic surgeons and also for non cademic social activites throughout the year. He is also a lecturer in Apollo physiotherapy College, Ahmedabad where he teaches the basic of orthopedics to the physiotherapy students. He strongly believes that one should always be updated wit what is latest in the respective fields. So has been regularly attending conferences like TRAUMACON, WIROC, GOACON, IOACON, ROC, ISHKS both as a delegate and speaker.